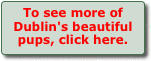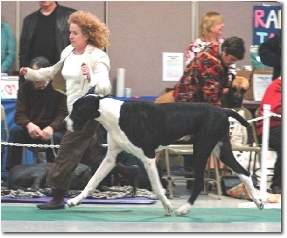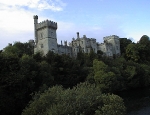 "Dublin" CH/INTL CH Saravilla DND's Toast V Dublin CGC
Saravilla's tradition continues with impeccable temperament and type in this breathtaking mantle dog.
Dublin boasts incredible bone, substance, a classic head piece with dark, tight eyes, a scissor bite with full dentition, and a level topline with correct tail carriage. Dublin is a complete package, combined with a loving and calm disposition!
Dublin won his first points by taking an impressive 5 point major at the Hoosier Great Dane Club on Sat, Nov. 11, 2006, under judge Katie Edwards and owner handled by Mimi. He is currently being shown in the open mantle class.


Health tests completed:
Hip Clearances: Pennhipped 50% no evidence of DJD
CERF clear: 7-07
Cardiac OFA: Clear 8-09
Thyroid OFA normal: 7-07
CardioPet proBNP, Idexx Labs:normal results: 351
All copies of health tests are available.
Link to OFA tests
Dublin is selectively offered at stud to approved bitches, owned by established breeders and exhibitors who are showing in some level of AKC or Canadian competition such as conformation, obedience, agility and rally.
Contact me for more information.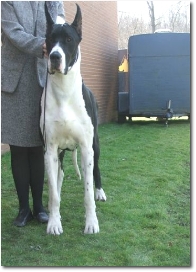 Sire
Ch. Beaubaton's Dromoland V Saravilla
Harl

Sire
BISS.Ch. Vi-Daynes Johnny
Harl

Sire
Ch. BMW Architect of Jericho

Sire
BMW Snow Flurry

Dam
BMW Opium

Dam
Vi-Dayne's Memory V Venus

Sire
Manatasquot's James Taylor

Dam
Vi-Dayne's Venus V RockRidge

Dam
Leigh's Madame Maxime
Mantle

Sire
Ch.Harlwood Archangel Gabrielle

Sire
CH Amherst-Harlwood Bubba Rondo
WP385221/08 09-93
Harl
AKC DNA #V26540

Dam
CH Amherst-Harlwood Gabrielle
WP416779/03 03-95
Harl
OFA26F

Dam
Manatasquot Celine Dion

Sire
Manatasquot Meatloaf

Dam
Manatasquot Tankini Blanc

Dam
Saravilla Oh'Bellaveeta

Sire
CH Harlwood-Briggadane Ricochet
WP761407/07 03-02
Black & White
OFA24G AKC DNA #V263275

Sire
CH Amherst-Harlwood Bubba Rondo
WP385221/08 09-93
Harl
AKC DNA #V26540

Sire
CH Riverwood's Rondo
WG383756 04-91
Harl
OFA29E

Dam
Dan-Mar's Jazmin Potpourri
WG408103 05-92
Harl
OFA29G

Dam
CH Amherst-Harlwood Gabrielle
WP416779/03 03-95
Harl
OFA26F

Sire
CH Stiegerhill Trail Blazer
WF998059 04-90
Harl
OFA48G

Dam
CH Amherst's Jilly
WG160488 09-90
Harl

Dam
Saravilla's Cinemax V Sanmar
WR024483/01 08-03
Harl

Sire
CH Saravilla's Lucky Man
WP742698/01 12-98
Harl
AKC DNA #V128218

Sire
Mimi's Maximillian
WP392195/01 04-95
Harl

Dam
Ag Danes Kailey
WP331960/02 07-94
Harl
OFA24G

Dam
Raudane Lady Star V Prinzel
WP885345/04 08-00
Harl

Sire
CH Riverwood's Nitro
WP721683/03 05-98
Harl
OFA24F OFEL24 AKC DNA #V33165

Dam
Prin-Zel's Lady Masquerade
WP641416/01 11-97
Harl
Pedigree for Ch. Saravilla DND's Toast V Dublin CGC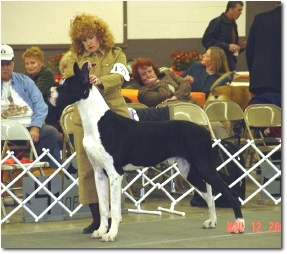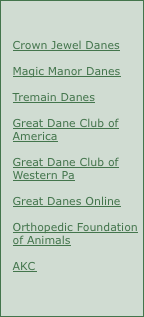 Dublin, pictured at 24 months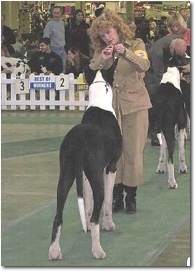 Dublin finished his championship with a bang, for his third major at the Illini shows on Sat, Feb 2, 2008 under Judge Dr. Ralph Graff.
"Dublin" is now proudly co-owned with Rebekah Mursencavage of Crownjeweldanes.
Above, Dublin, at 20 months, with Mimi in the ring.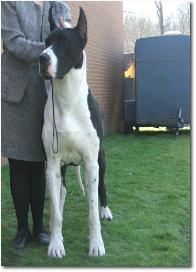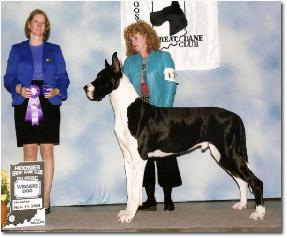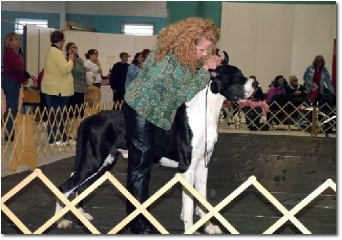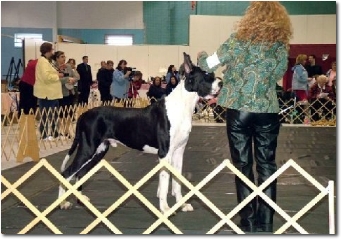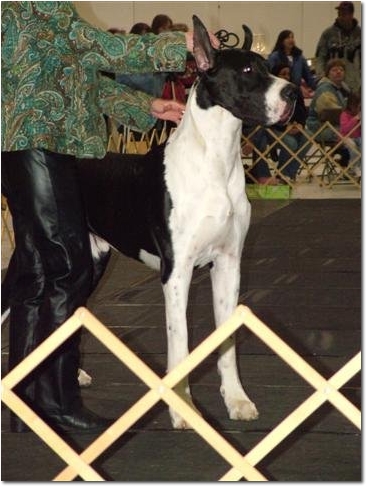 Below, Ch. Dublin and Mimi in Breed at the Illini specialties Feb 2, 2008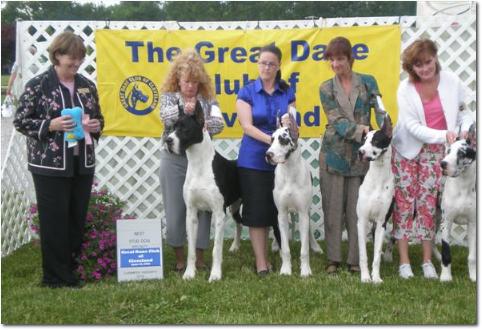 Dublin left us, with a huge hole in our hearts, on 4/20/12, after a very brief but insidious battle with acute lymphocytic lymphoma.