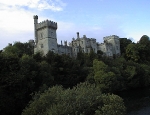 "Lance" Ch. Beaubaton's Dromoland V Saravilla
Producer of beautiful pups of show color, size, head type, and bone.

OFA cardiac: clear GD-CA 812/37m/c-PI Cardiac
CERF: normal GD-1089N
Thyroid: T4: 1-06
Hips radiographed: normal (copies of results are available.)
Frozen semen is now available.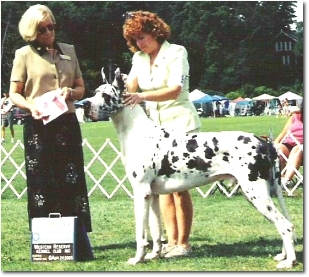 At Saravilla, we are dedicated to preserving the integrity and soundness of the breed. Outstanding, stable temperaments have become synonymous with the Saravilla name.
In order to continue this tradition of sound breeding, Lance will only be bred to harl or mantle bitches who possess the following:
• bitches who have a minimum health tests of cleared hip x-rays

• sound stable temperaments exhibited by CGC; TDI or other obedience titles
• AKC championship points or AKC championship titles
• Breeders who are actively showing in obedience; conformation; agility or therapy work
Lance was owner handled and finished at 14 months, and is now available at stud to approved bitches.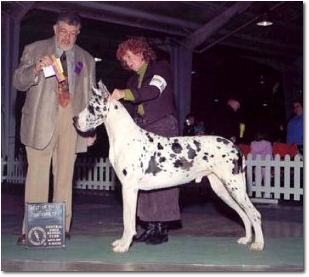 Owners: Mimi Kim Saravilla Danes
Breeder: Tom and Joann Alexander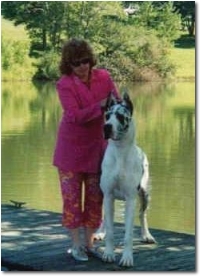 Sire
BISS.Ch. Vi-Daynes Johnny Angel

Sire
Ch. BMW Architect of Jericho

Sire
BMW Snow Flurry

Sire
Ch. Chauffered Beroe

Dam
BMW Jingles CD

Dam
BMW Opium

Sire
DaneBoa's Black Ambassador

Dam
BMW Pasha

Dam
Vi-Dayne's Memory V Venus

Sire
Manatasquot's James Taylor

Sire
BMW Avalanche

Dam
Manatasquot's Carly Simon

Dam
Vi-Dayne's Venus V RockRidge

Sire
Ch. BMW Bull Lea

Dam
Vi-Dayne's Sabrina

Dam
Leigh's Madame Maxime

Sire
Ch.Harlwood Archangel Gabrielle

Sire
Ch.Amherst-Harlwood Bubba Rondo

Sire
Ch. Riverwood's Rondo

Dam
Dan-Mar's Jazmine Potpouri

Dam
Ch.Amherst-Harlwood Gabrielle

Sire
Ch. Steigerhill TrailBlazer

Dam
Ch.Amherst's Jilly

Dam
Manatasquot Celine Dion

Sire
Manatasquot Meatloaf

Sire
Ch. Inthemist Sweet Baby James

Dam
Ch.Manatasquot Bonnie Raitt

Dam
Manatasquot Tankini Blanc

Sire
Manatasquot Taylor-Vi-Dayne

Dam
Ch.Manatasquot Bonnie Raitt
Pedigree for Ch. Beaubaton's Dromoland V Saravilla
Be sure to check out the beautiful puppies Lance has produced!